Magnet wire  sometimes referred to as "Winding Wire" is a copper or aluminum wire that is insulated with a thin film or coating and creates a magnetic field when the wire is would in a coil and power is applied. Magnet wire is used in transformers, generators and a long list of electrical components in almost anything with an electric motor.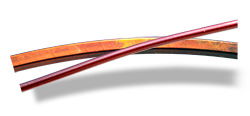 Magnet wire comes in a variety of sizes which refer to the diameter of the wire and also categorized by the shape of the profile including rectangular, square, round, etc. The term "enameled" also refers to the insulation applied to the copper wire. Technically the magnet wire is not coated with actual enamel but usually coated with one to four layers of thin film made of polyester, polyglass and or polymide, you can read more about insulation by clicking here.

S&W Wire stocks and distributes a wide range of magnet wire shapes and sizes to meet your application and production needs. We offer the unique ability to order just the amount you need without having to purchase the entire roll and even provide stocking programs to synchronize with your supply needs.
WE have done our best to provide our inventory and capabilities and invite your inquires if there is something you need but did not see on our website.
---
Magnet Wire Manufacturing Capabilities
SIZE RANGE / SHAPE

CONDUCTOR

1/0-13AWG
Round
Copper
1-13 AWG
Square
Aluminum
.040-.700
Rectangular
Hollow
COATING
INSULATION
Bare
Polyglass
200°C Enamel
Kapton
220°C Enamel
Glass
VARNISH
TESTING
Epoxy
Dielectric
Polyester
Elongation
Silicone
Bend
SPECIFICATIONS
SERVICE LABELS
NEMA-MW 1000
SAME DAY
JW 1177
24 Hour
OEM Specific
48-72 Hours
4-6 Day
7 Day
Long Lead Time
For more information about magnet wire please call 724-772-0049 or click here to contact us or request a quote.